Logging In / Out
Logging In
Type the email address in the Email Address field.
Type the password into the Password field.
Click the Log in button.
First Time Users Login Set Up
Email addresses are given a temporary password for a first time login.
The user selects a new password by entering the new password twice.
Click the Submit button to confirm the new password.
The users selects two different security questions and answers to the questions for password retrieval purposes.
Click the Submit button to confirm the security questions.
Logging Out

For security reasons, it is important to completely log out of the Sharesource portal after you are finished using it.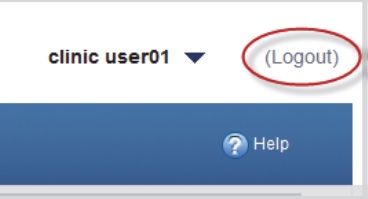 Find your username at the top right corner of the screen.
Click the Logout link.
Frequently Asked Questions
Login Related Questions
Other Common Questions
Customer Service Related Frequently Asked Questions
Adequest Related Frequently Asked Questions
___________________________________________________
Q: I can't remember my password
A: Use the "Forgot Your Password?" link to reset your password.
Q: I've requested my password, but I'm told my details cannot be found. What should I do?
A: You may be registered under a different email address. Try using the "Forgot Your Password?" link with any other email addresses you may be registered under. Alternatively, call Baxter HomeCare Services for help.
Q: I want to change my password
A: To change your password:
Log in to the portal using your current password
Click on the Down Arrow next to your name (in the upper right hand corner)
Click on "Account Settings"
Select "Change Password" and follow the instructions
Q: I can't remember my username
A: Your email address is your username. Try using your email address to log in.
Q: I have locked myself out of my account
A. Use the "Forgot Your Password" link to reset your password.
Q: Why did the Forgot Password link send me to the Login Screen?
A. If a new Sharesource user doesn't click on the activation link from their email prior to trying to use the Forgot Password link, Sharesource will not allow them to proceed and will send them to the Login Screen.
Q: Why am I having trouble viewing certain web pages?
A: You may not be using a supported web browser. The support web browsers for Sharesource are Internet Explorer 10, Chrome, Firefox, and Safari. A resolution of 1024x768 or higher is recommended.
Q: Why can't I see certain patient information or access certain functions?
A: Patient access and access to Sharesource functionality is dependent on a user's permission levels, which are set via the User Management. Contact your clinic administrator to verify you have the appropriate access. If there are still issues, contact Baxter Customer Service.
Q: The treatment time on the Treatment Summary screen is different from the time shown in the printed Treatment Summary report. Which is correct?
A: The Treatment Summary screen contains the correct treatment time. If a treatment overlapped with daylight savings time, the report incorrectly calculates the treatment time.
Q: How do I see data that is cut off in the data table?
A: To see the full information, hover over the information that has been cut off with your mouse. If this does not work, select "View" or "Edit" to see the full information.
Q: Why is content in a drop-down menu cut off?
A: This is a known error with Internet Explorer 8. Try using a different supported browser such as Internet Explorer 10, Chrome, Firefox, or Safari.
Q: How can I access the electronic Instructions For Use (eIFU) ?
A: To access the eIFU:
Log in to the portal using your current password
Click on the Help link
Click on the View User Manual link
Q: What is the customer service phone number to call if I have questions about a placed order?
A: Please call Baxter Customer Service using the phone number provided in the "Contact Us" Section.
Q: Why do I receive an error when I click on "Privacy Terms and Conditions" from the Login page?
A: This is a known defect that will be corrected in the next software version release. The Privacy Terms and Conditions link works once you are logged into the application.
Q: Why does it seem that at times the data in the Solutions, Disposable, Ancillaries tab has not been updated when I make a change?
A: There are a few known defects that will be corrected in the next software version, where old data is shown when you click "Previous". However, the logic behind the scenes is all working. You will receive the order that is shown on the Review screen, and you will not be able to place any orders that exceed the maximum quantity limits set by the clinic.
Q: What is new with Sharesource Adequest?
A: Sharesource Adequest is now a web/cloud based kinetic modeling tool/calculator built within the Sharesource application.
Updated calculations for modeling - Analytical to Numerical approach - for improved accuracy : Runge-Kutta Fourth Order method used to calculate regimens
New PETs: Modified, Fast & Mini, with continued support for Standard/Simulated PETs
Supports multiple PETs (PET History) per patient
Sortable Dashboard, by: Kt/V, 24 hour collection, PET collection
Unit of Measure (UoM) can be changed post entry (e.g. Kilogram to pounds)
Supports multiple preferred regimens per patient
New Pediatric Total Body Water Method - Morgenstern Schaefer Warady
Q: Why do I see features (e.g. various PETs - Peritoneal Equilibrium Tests) that are not used by my clinic?
A: Adequest is an inclusive, global application designed to cover broad practices.
Q: Where can I locate the Prescription Therapy Guide?
A: It is located under Help. Click on the Help icon located in the top right corner of the screen to access this guide.
Q: Why are the Adequest screen fields highlighted in Red when I click on "Save for Later" or "Next" buttons?
A: Below are possible reasons why the data you entered in the screen is considered invalid by Adequest.
Field contains letters or unsupported characters
Field contains decimal precision that is not supported by Adequest. The Adequest User Guide (Click on the Help icon to access the guide), in Appendix B provides the supported precision for each screen.
Field contains a Space
Use Backspace or Delete to clear the field and re-enter the values with the correct decimal precision.
Q: Why don't I see the Report I am generating?
A: Try one of these below options for Reports
In Firefox, if reports are not generating, enable pop-ups.
Browser might have saved reports in Download directory, please check browser settings for location of saved downloads for generated reports.
Q: Why don't I see updates made by other clinicians?
A: Save the screen you are currently working on and click on the "Adequest tab" OR click on the Left navigation to get the latest respective patient specific data.
Q: What happens when I navigate away from the "Adequest tab" when I am updating a screen?
A: User has to choose "Save for later" or "Next" button to save the data they are currently working on before navigating out of Adequest.
Q: What does "range" under the fields mean on Adequest screens?
A: Range for Regimen screens must be met in order to model regimens, and the fields are highlighted in red if values are outside range.
Ranges for PET, 24 hour Collection, and Adequest Settings screens are recommended ranges and allowed to deviate outside the range, and fields are highlighted in yellow if the values are outside the range.
Q: What is the decimal precision supported in Adequest?
A: On the Regimen screens decimal values are automatically rounded to Adequest supported decimal precision.
For the PET, 24 hour and Adequest settings screen refer to the Adequest User guide Appendix B for Adequest supported decimal precision.
Q: Why don't I see calculations for PET even though all Sections in PET are shown as complete?
A: The calculations are not available if there is an issue in the PET input data. From the PET Summary screen, choose to Edit the sections and review all the PET sections: Overnight, Four Hour and Lab Data and try to calculate again.
Q: Why is the Kt/V lab coming back different on Sharesource Adequest ?
A: The Kt/V equation is the same as the existing RenalSoft Rx Management/PD Adequest tool, but there are new methods used in Total Body Water calculation for Sharesource Adequest. Refer to Adequest User guide Appendix A for the current TBW calculation methods.
Q: Why is there no option to model Smart Therapy?
A: This functionality is not yet available, it is planned to be in a future release.
Q: Why are my regimen input values from Adequest are not fully compatible when entering a Device Program ?
A: Values in Adequest support a universal range of values to support all different kind of devices. Device specific ranges could be different and might not be compatible with Adequest universal regimen values range.
Q: Why do I see differences in Sharesource Adequest Dwell time versus PD Cyclers?
A: Sharesource Adequest is device independent. It does not use the PD Cyclers calculations for Cycle/Dwell Time. The Estimated dwell time values displayed in the Sharesource Adequest Regimen Modeling screen is 30 mins less than the displayed Cycle Time to account for fill and drain periods. In the Tidal section, Estimated dwell time is calculated as CycleTime-Tidalpercent/100 x 30 mins.


Sharesource Connectivity Platform for Use with Homechoice Claria APD System
Version: 8.1.0
Product Code: 5CGM01
GTIN: 15413765545723, 25413765545720
Place of Manufacture: USA
Date of Manufacture: 2020-11-23




Sharesource Adequest
Version: (10) 2.2.0
GTIN: (01) 00085412547404
Place of Manufacture: USA

(11) 2020-09-04

5CGM20
Sharesource Products
Sharesource Customer Service
Version: 10.1.2
Date of Manufacture: 2020-09-04
Sharesource Connectivity Platform for Use with the Amia Automated PD System
Version: 6.0.2
Product Code: 5C9400
GTIN: 45413765565692, 55413765565699
Place of Manufacture: USA
Date of Manufacture: 2020-09-04